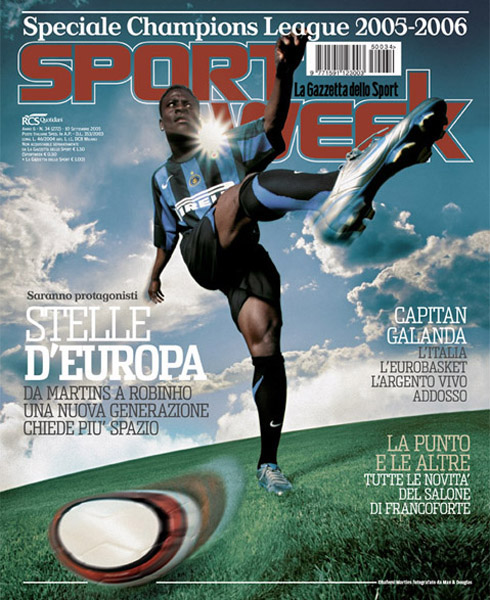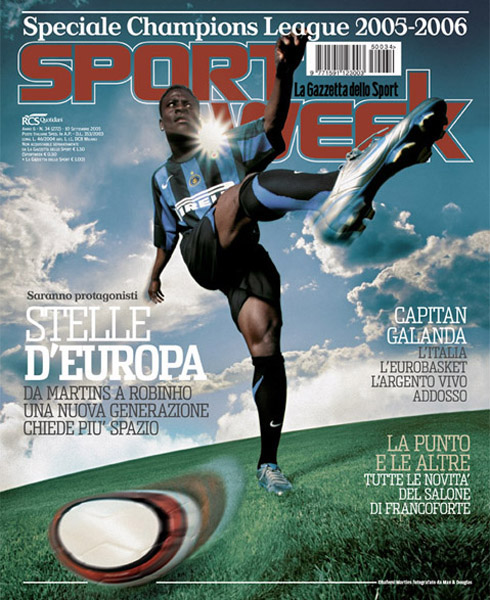 In 2006 we did an exhibition of many sportsmen'sportraits we realized during several years of cooperation withSPORTWEEK Magazine.
The location was Hilton Hotel in Milan who supported the project with the agency GRAZIANERI and EPSON as technical partner (here's a link to NITAL's press release and a review).
Epson printed all the images of the exhibition and in particular this one above (WITHOUT TEXTS, of course: just the picture) to be exposed in the entrance of the main Hall in big format (120cm x 80cm), on rigid support.
When GRAZIANERI closed at the end of last year (that was a great displeasure) we had all the prints back.
That's one of our favorite pictures: we've been inspired by the cartoon ""Holly and Benji"" (end of the 80's) and the soccer player (Obafemi Martins) kindly accepted to help us.
It's a unic copy, original and signed.
More prints of different pictures are available too (in smaller sizes).
Whoever could be interested can contact us via mail using info(AT)max-douglas.com.